Tally Ho with BaliYo!
Fanning, backhand twirl, latch drop, flywheel!  No, this is not just a bunch of gibberish, these are just a few of many Balisong knife tricks I came across.  Learning to flip a balisong can be intimidating, and often times painful.  Well thanks to Spyderco's BaliYo Pen Buttery Flipper, it doesn't have to be anymore.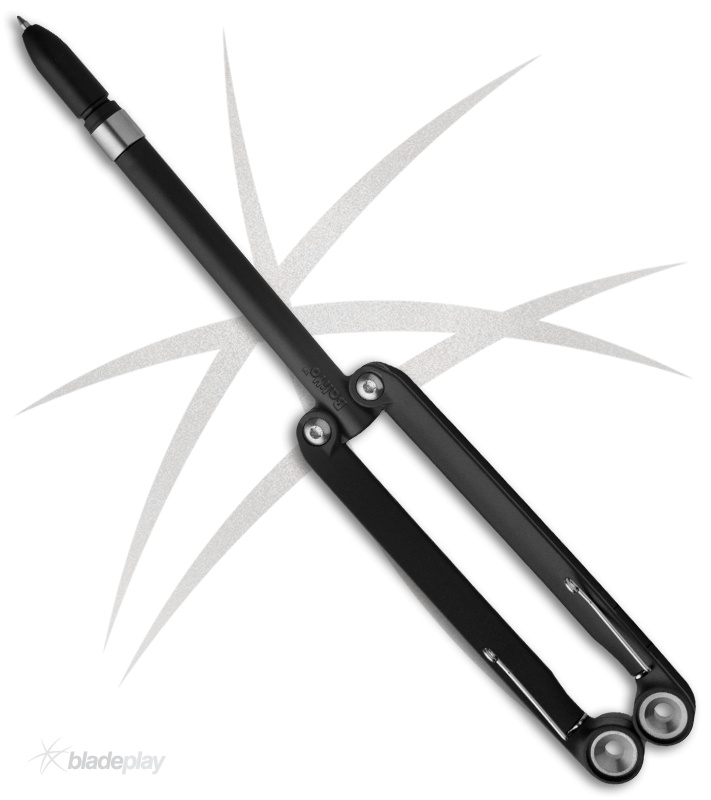 I've always wanted to learn to flip a butterfly knife.  It's been one of those bucket list things, but I kept putting it off.  There was always an excuse, I didn't want to drop a fortune on a nice one, but I also didn't want to just blow money on a bad knock off. Not to mention I wasn't too keen slicing and dicing my own hand.  I had pretty much dismissed the idea until I saw the BaliYo.  Affordable, durable, and totally safe.  This is the perfect learning tool for beginners like myself.  Lightweight (only .92 oz.) this is ideal for you to take in your pocket and practice anywhere.  While lighter than most Balisong knives, its weighted ends help to make sure it reacts and flips just like a regular balisong.
On the flip side (see what I did there?), it's a great pen.  I take mine to school with me and take notes with it.  You would think that flipping it around this way and that would mess with the ink, but it works perfectly.  I don't need to scribble with it before using it, it works great every time I open it.  The pen itself is retractable, so you do not need to worry about getting ink all over yourself when you are flipping.
Fun and functional, you just cannot beat something like that.  Between $6.95-9.99, it's super affordable for the beginning flipper, or the expert flipper who just wants to flip in the office or on the go.  This is easily one of the best ways to begin flipping, especially since it comes with instructions to get you started on at least 6 beginner tricks. I bought one for myself and I am already loving it, I have only been able to practice for about 15 minutes and I have already started to get a couple of tricks down.
These do not have to be just for beginners either.  Veteran flippers will get a kick out of it.  Being able to flip in places you couldn't have before, you can carry it with you in the office, the bus, Doctor's office, practically anywhere.  As I said before, I take mine to class with me and have not once had an issue.  A couple of raised eyebrows?  Yes.  But no issues.   Completely legal, after all, it's just a pen.  The perfect gift for the flipper in your life.  Hurry fast though, these guys won't last long.
Got some tips or tricks for the beginners?  Have you been able to practice with the BaliYo?  Let us know in the comments below!
For those of you wanting to start flipping, here are some links I found helpful when I was starting.
http://www.instructables.com/id/Balisong-Knife-Butterfly-Knife-Simple-open/
http://www.butterflyknife.com/butterflyknives/beginner-butterfly-tricks/2012/06/
http://tag.wonderhowto.com/easy-balisong-moves/