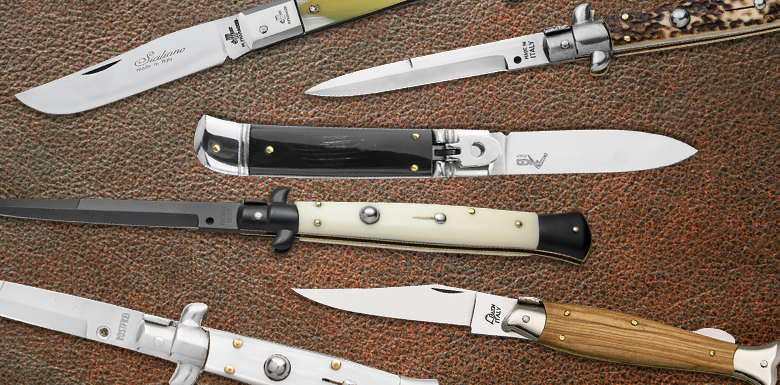 Italian style knives are all about class. When you need to make the right impression, nothing will do like a classy Italian style knife. We're going to break down all the best options, and here's the really good news—every option comes in under $100.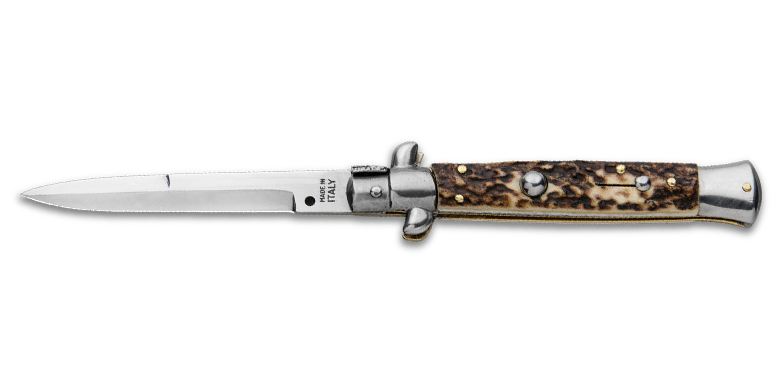 $85
3.875″ bayonet blade
stag handle scales
3.55 oz.
Bolster lock
Let's start things off with a true Italian masterpiece. This knife features brass liners and stag handle scales. If cutlery tradition is of the utmost importance to you, this blade has got it all. I heard someone say they don't make them like they used to, but apparently no one told SKM…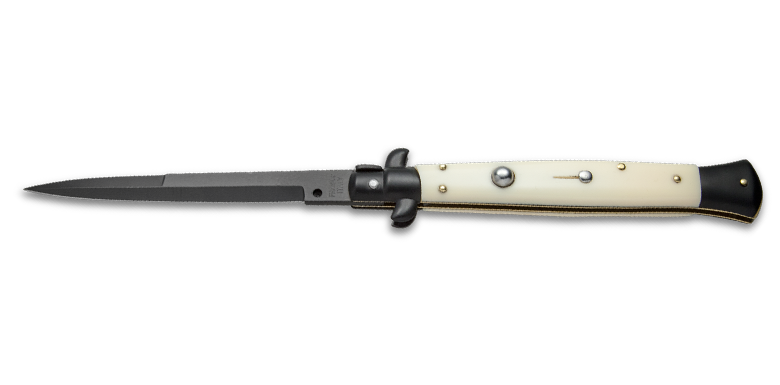 $80
4.875″ bayonet blade
Polymer handle scales
4.76 oz.
Bolster lock
Frank B. may sound like your buddy from that afterword co-ed softball team, but really what we're talking about is a high-quality manufacturer of Italian knives. This beast offers close to five inches of blacked-out blade. You'll be surprised by the balance and function of this giant auto.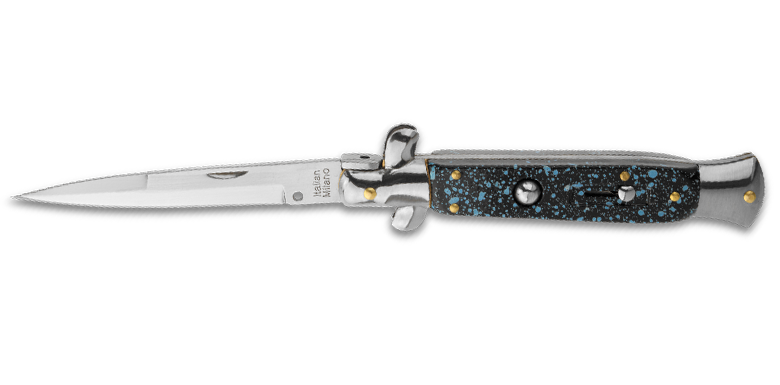 $15
4″ bayonet blade
Acrylic handle scales
3.80 oz.
Bolster lock
In a much lower price tier we've got the Anomaly stiletto—one of the best-selling models at Grindworx. These knives are insanely affordable and come with super fun, imaginative designs and limitless options. This one features a sparkly speckle pattern reminiscent of those backdrops from your childhood school photo.
And there's nothing wrong with that.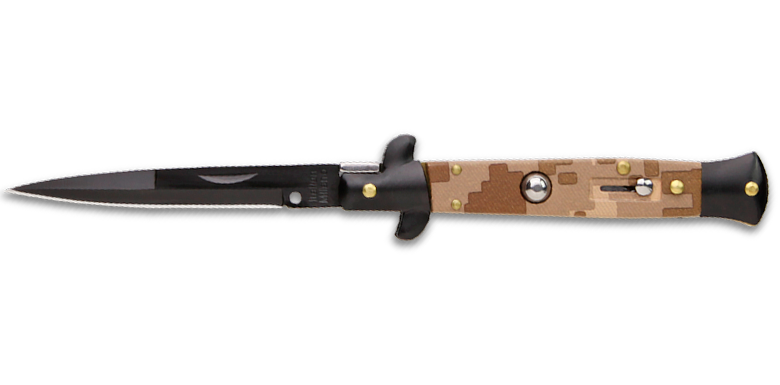 $15
3.75″ bayonet blade
Acrylic handle scales
3.70 oz.
Bolster lock
I wouldn't dare show you one design from Anomaly without providing another example of their diversity and creativity. This one here is very similar in terms of build, but the sparkle unicorn theme is ditched for a more tactical aesthetic. Brown digi camo scales and a blacked-out blade show the world that you mean business. Leave on of these in your valet tray by the door and it won't ever let you down opening boxes, mail, or performing other light EDC tasks.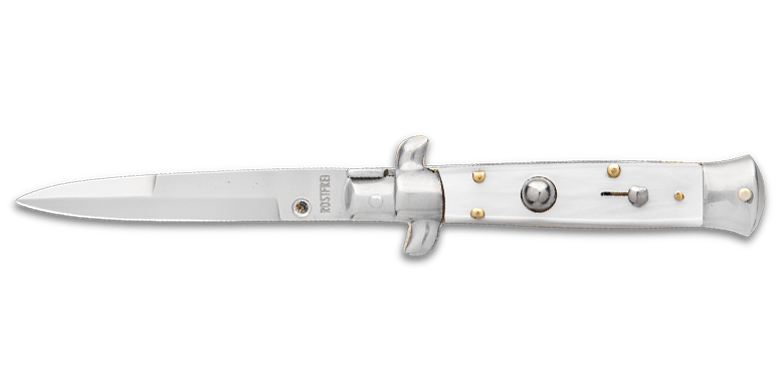 $65
2.375″ bayonet blade
Acrylic handle scales
1.33 oz.
Bolster lock
You remember that traditional stag handled stiletto from SKM featured at the top, yeah? This one features a similar design, but changes out the nearly 4-inch blade for a sub-2.5-inch blade and beautiful white Pearlex handle scales. This knife combines slim pocket feel with an ultra-lightweight construction, making it the perfect office carry for classy individuals.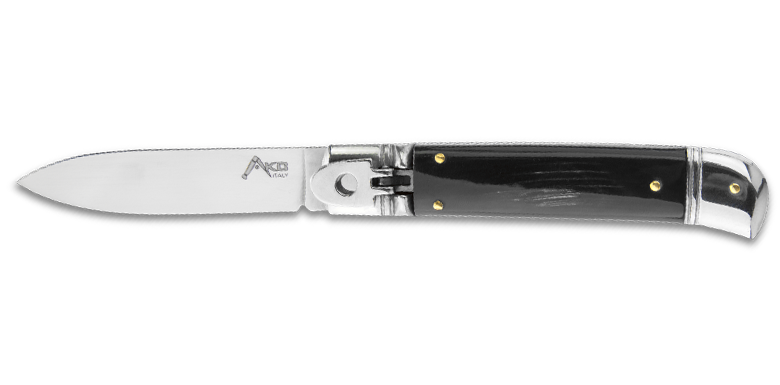 $85
3.125″ drop point blade
Dark horn handle scales
4.17 oz.
Lever lock
AKC (Automatic Knife Company) out of Maniago, Italy is famous for their automatic knives. From the OTF F-16 to this wonder lever lock and many more, you can't go wrong with any choice from this brand. The AKC Classic Lever Lock has beautiful dark horn handle scales and the blade is a handsome drop point, a less common feature in Italian knives.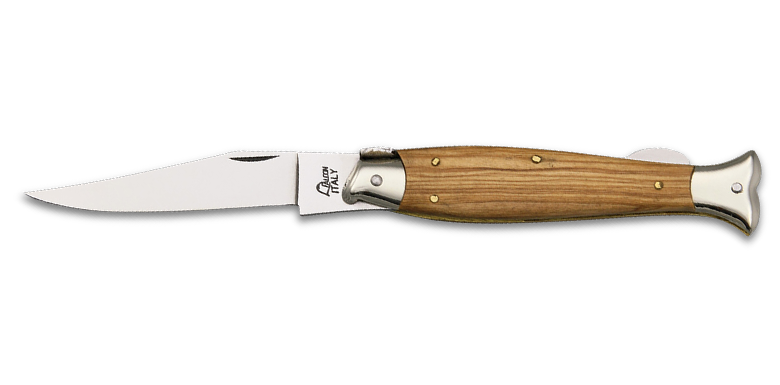 $25
3.374″ clip point blade
Wood handle scales
2.55 oz.
Bolster lock
Knives are tools. Or are they art? With this Fish Tail manual stiletto from Falcon, that line becomes very, very blurry. Gorgeous olive wood handle scales compliment a slim, graceful clip point blade.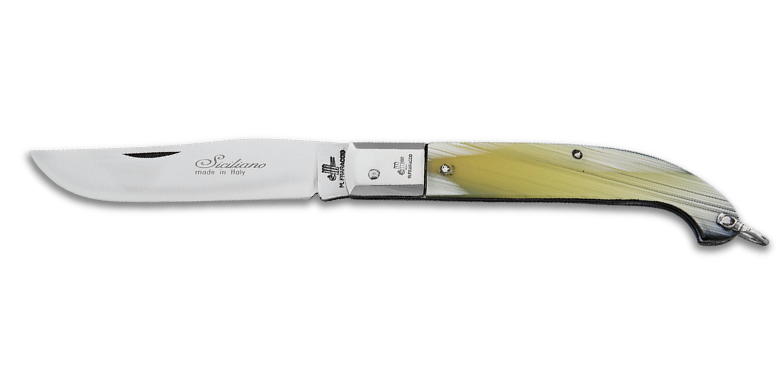 $25
3.625″ drop point blade
Polymer handle scales
3.20 oz.
Slip joint
Fraraccio makes real deal Italian knives. This slip joint folder features clean lines, elegant finishing, and unique styling. The faux yellow buffalo horn scales pair well with a beveled nickel silver bolster. Throw a loop of leather cord through the lanyard hole and you'll be hard-pressed to find a more appropriate—or more attractive—knife for everyday tasks.
Start your Italian knife collection off today with these top picks from Grindworx. Be prepared to take a deep dive on our website—we've got hundreds of stilettos to fit any style from greaser to wannabe mobster, and more.
Which knife are you itching to add to your collection? Let us know in the comments!