A looming figure, clad in armor and steeped in shadow.  He sits atop a mighty steed wielding a bloody axe and shield, demanding respect.  The 1973 fantasy painting "Death Dealer" by Frank Frazetta is an extremely powerful image.  With one look you can tell a great deal.  It's as if the image itself tells an entire story.  What does this striking image have to do with knives?
The Tiger USA Death Dealer is a perfect homage to the painting of the same name. As soon as you lay eyes on this knife you are transfixed by its unique design.  Much like the painting, one look and you know this knife means business.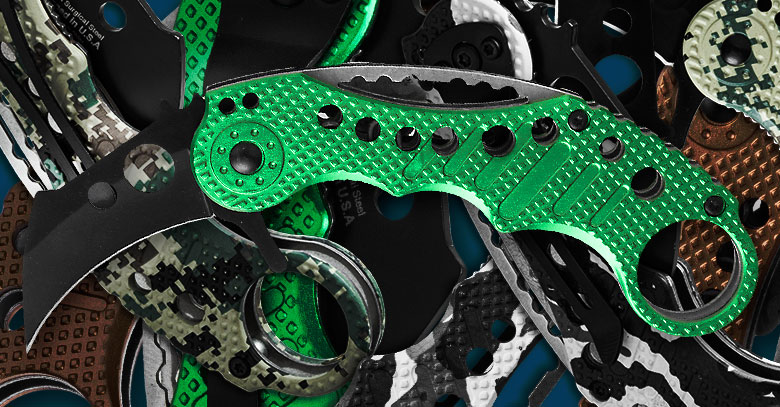 The Hawkbill style blade really makes it a point to impress.  It adds a commendable quality to this already awesome knife.  The design itself hearkens back to the "Death Dealer" painting, and the axe the mysterious figure wields.  The fast action flipper attached to the blade, combined with the spring assist make opening this knife swift and decisive.  Or if you would prefer, you can use the small thumb hole to open the knife, either way it's an easy and quick open.  Locking in place with a liner lock mechanism, you know you are in complete control of the blade with no need to worry about it slipping or coming loose. The 1065 steel provides a strong reliable blade while cutting down on cost.
Made of aluminum, the convenient, ergonomic handle helps to make this knife comfortable and affordable for everyone. Absolutely perfect for the beginning knife buyer looking to add some style to their collection without spending too much.  Coming in colors like bronze, metallic green, black/gray camo, and metallic pink there is an option for everyone.  This EDC is definitely going to grab the attention of even the pickiest of knife buyers.
This knife is also a great way to show some marine pride.  The camo, and tan camo models come with a little something extra on the blade, they are embossed with the word "MARINES".  Making for an impeccable way to add a little extra "OORAH" to your everyday carry.
Coming in at an overall length of 5.50", this knife is a perfect EDC.  Separately, the blade is 1.75" and handle length is 3.75", making sure it fits comfortably in your pocket, not too bulky or cumbersome.  Not to mention its very affordable price tag of only 8.99, you just can't beat a knife like this for a price like that.
All in all this knife is perfect for the beginning collector looking to beef up their collection with something intimidating, and impressive.  With so many different styles to choose from there is sure to be one that really jumps out at you. This imposing knife pays perfect homage to the painting with which it shares a name.  Get yours today!