Specs are nice, but sometimes you need to see a few knives next to each other to really appreciate the pros and cons. Enter this handy little butterfly knife size comparison chart, including some of the highest rated balisong knives available on Grindworx.com.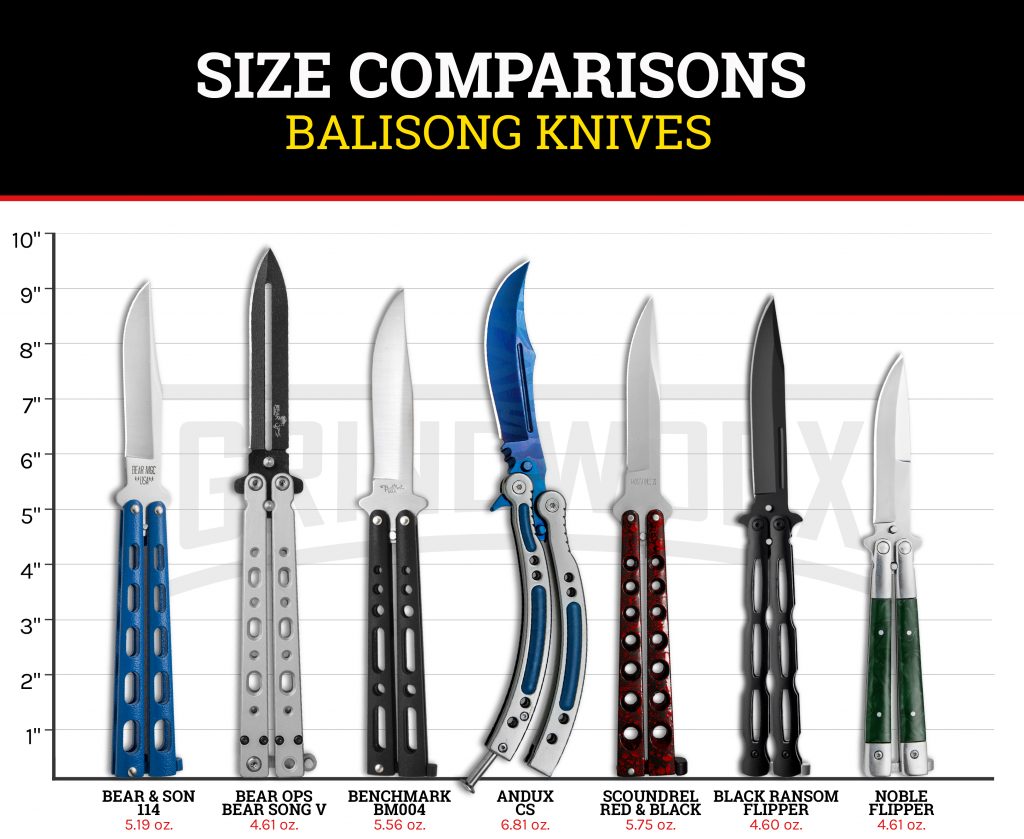 Earning a solid 4.5 out of 5 stars on Grindworx.com, this little bali is one of the best deals around for a live butterfly knife. At just 4.6 ounces, it's a good choice for flippers who prefer a lighter balisong. Designed to be the perfect practice knife, it is assembled with Torx screws rather than pins, so you can fine-tune the pivots to suit your needs. The handles also feature additional tactile feedback via the grooved handles—a definite plus when you're learning new tricks.


One of many variants of the Scoundrel Balisong Butterfly, this red and black beauty is a great starter butterfly for those looking to break into the bali scene. If you want to give it a try but aren't ready to dedicate some serious cash to it, it's well worth the money to pick this one up and give flipping a spin. Is it a professional quality knife? You can probably guess the answer to that question, so you'll need to maintain it if you want it to last—but reviewers like the weight, sharp blade, and smooth action.


If you know anything about knives, you probably don't expect to be blown out of this world when purchasing a balisong for less than $20—but the satisfied customers of this Noble Flipper are consistently surprised at its quality right out of the box. The 440C stainless steel blade is solid and sharp, and despite coming in at under 8 inches, it has some heft that lets you know you're holding a good value butterfly knife. And if looks matter to you, it might the prettiest bali in the lineup.


Whether you're a hardcore CS fan or just looking for something that stands out in a crowd, the Andux CS butterfly will not disappoint. Its unique, curving profile is instantly recognizable to Counter Strike players, but this bali is so much more than a prop from a video game. Balisong enthusiasts will love the tactile feedback from the grippy handle inlays, the crazy smooth action, and the extra flare it brings to even the most basic tricks.

"Best beginner on [the] market." "Great knife." "Really love it." "Very strong knife." "Great balisong."
These are just a few of the things reviewers had to say about this knife. Many noted the heavier weight, which made flipping more difficult for some, but the heftier, channel-construction handles also make for a much sturdier, more durable balisong. You can go to town on this Benchmark without any fear, and it'll stick with you for years to come.


When it comes to entry level balisong knives, the Bear & Son butterfly hardly needs an introduction. One of the only Grindworx offerings with a 100% 5-star rating, the 114 is everything you would expect from a USA-made knife. Quality materials, classic design, and great fit and finish. Are there other options out there with more premium materials? Of course—but this knife will do what you need it to at a fraction of the price.


A step up in price, quality and size from every other bali on the chart, the Bear Song V is a butterfly knife for the more experienced flipper. Despite its whopping 9.75″ length, it is almost the lightest balisong on this list. Tricks will be more challenging for those accustomed to a smaller, heftier knife, but it will also achieve mind-blowing speeds that other big butterflies may struggle to match. Ready to step up your game? The Bear OPS butterfly series will take you there.


Which bali have you got your eye on? What would you like to see on our next comparison chart? Let us know in the comments. Once you do get your hands on a beloved bali, make sure to check out our Balisong Maintenance Guide.