There was lots of awesome stuff at SHOT Show, but not many new Bowies for 2014. In the last post you saw the new Boker Collection Bowie (which is pretty awesome), but here's another Bowie you have to look forward to in 2014: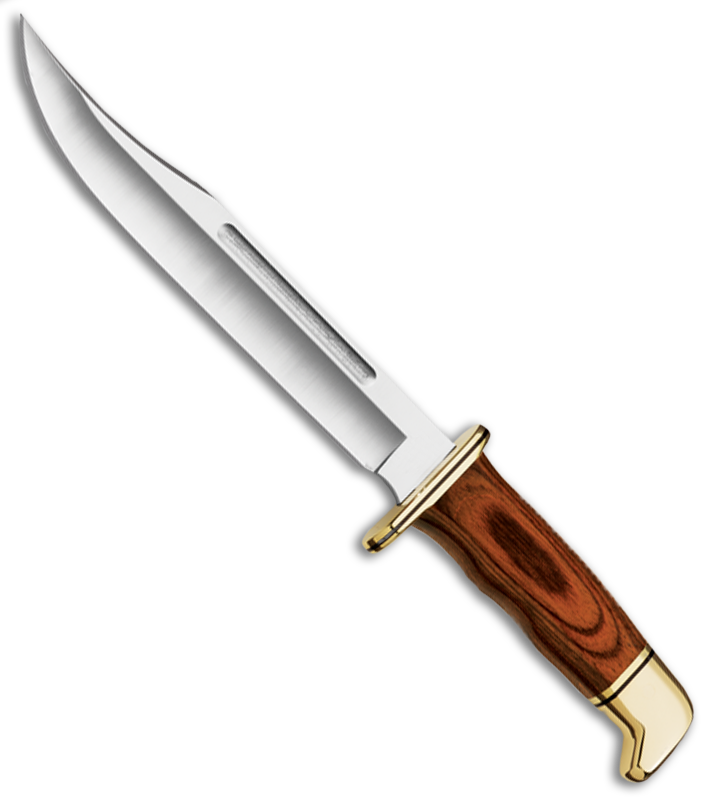 This is the Buck 120 General Dymondwood Fixed Blade. It's a pretty intense blade; the handle is 4.625 inches long and the blade is 7.375 inches long, which gives the knife an overall length of 12 inches. The blade is made of satin-finished 420HC and it has a hollow grind. If you don't know much about 420HC, it's used a ton in Buck knives, and its makeup consists of the following:  0.46% Carbon; 0.3% Vanadium; 13% Chromium; 0.4% Manganese; 0.4% Silicon. Here is what Buck has to say about 420HC:
"This is Buck's standard blade material because it combines the excellent wear resistance of high carbon alloys with the corrosion resistance of chromium stainless steels. Add our exclusive heat-treat process for superior corrosion resistance and you have excellent tensile strength, hardness and wear resistance. 420HC Steel is a High Carbon (HC) version of standard 420 martensitic stainless steels – they can be can be hardened to a Rockwell hardness of Rc 58."
The Dymondwood handle has a brass pommel and guard at its end, and the blade totals 8.30 ounces weight.
This blade is coming soon, but it's not in stock yet. If you want to be notified when it arrives at Blade HQ, click the "Email Me" button in the price box on this page to get an email when it is in stock.
Get your Bowies at Blade HQ, and have a great week!