Looking to buy budget butterfly knives? Let us help you out. Here's what you need to know:
Butterfly knives can range from $7 to around $400+. If you're a beginner, we recommend spending between $10-$50 to see if you like flipping balisongs. Keep in mind:  these are entry-level balis with pin construction in the pivots (you can't adjust them), and if you get deep into flipping, you may need to upgrade. Additionally, these knives are all channel construction, rather than sandwich construction. You can check out a huge variety of butterfly knives at Grindworx, but here are a few that you may want to consider: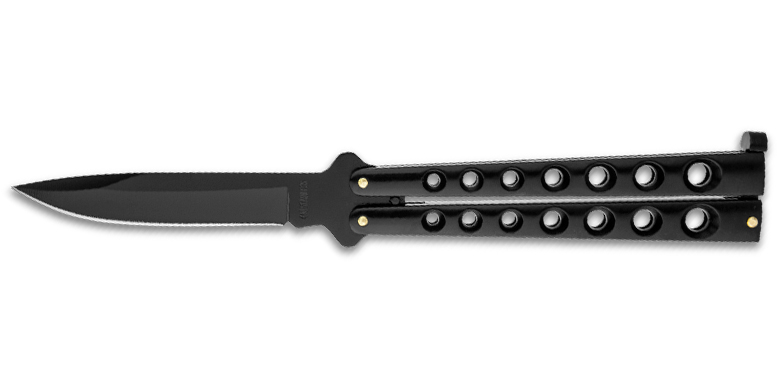 The Scoundrel butterfly knife comes in many styles. It's built with pins in the pivots and opens smooth. Keep the pivots lubed with a couple drops of oil, and it will perform well while you're picking up the sport. Keep in mind: this knife is a little heavier. It will flip with more weight behind it, so plan accordingly.
Weight 5.75 oz.
Blade length 4"
Overall length: 8.875"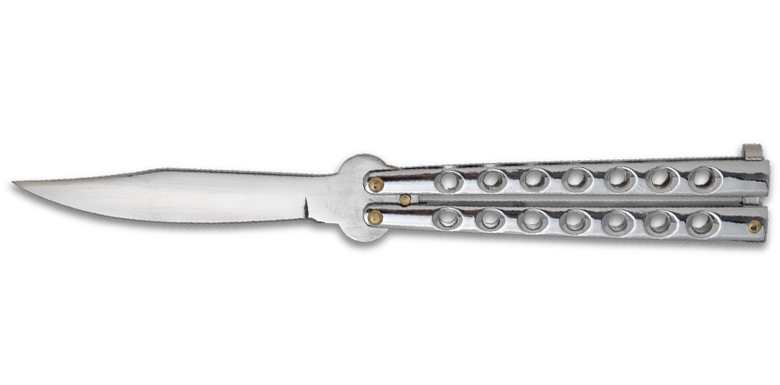 The Flick butterfly knife family is similar to the Scoundrel, but the overall length is a little longer. Some flippers prefer longer handles for more purchase when doing tricks. Will this thing last a lifetime? Probably not, if you're serious about flipping butterfly knives, but it's great to get you off the ground and started in the sport.  Keep in mind: this knife is a little lighter. Tricks may run slightly slower until you learn where the balance points are located on the knife and the force required to get it moving.
Weight 3.4 oz.
Blade Length 4"
Overall length: 9.125"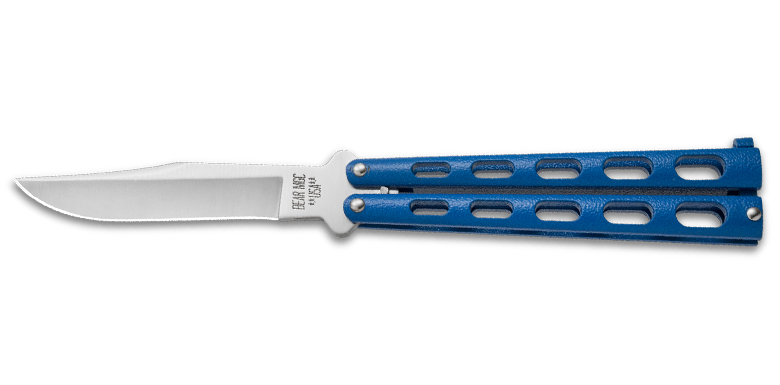 Here's the deal: you're going to spend a bit more for this knife (around $35), but if you're more of a "buy nice or buy twice" kinda person, the Bear and Son 114 Butterfly Knife might be the one for you. It's durable for when you drop it. It flips smooth and you can also pick up a butterfly trainer version to learn on. Occasionally, you'll hear serious balisong flippers knock on Bear & Son knives. Then you start asking them the best live blade (sharp) to learn on under $100. What do they say? The Bear and Son 114, then they grumble about needing to spend $200+ on a serious bali. The reality is: for under $50, this is an awesome knife and people know it.
Weight: 5.19 oz.
Blade Length 4.125"
Overall length: 9.125"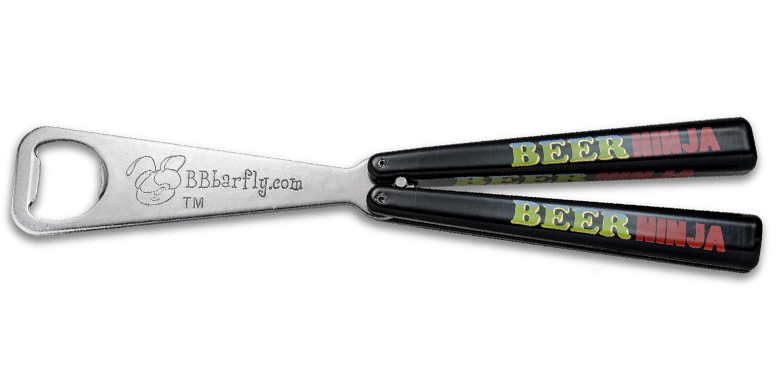 You're probably thinking: "Wait. That's not even a knife!" Right you are. However, if you're looking to learn how to flip butterfly knives, this could be your new best friend. The BB Barfly is HEAVY and LOUD, but it's actually an excellent tool to learn on. Plus: brewskies, bro. One of the disadvantages of using the BB Barfly Butterfly Trainer is that you won't learn to respect the "bite handle"—the one that can cut you. If you're not stressed about that, get this one.
Weight: 6.23 oz.
Blade Length: 4.75"
Overall length: 9.875"