Do you love knives and awesome gear? If so, then you should check out the USN forums, host of one of the best knife shows every year. Dubbed "the Gathering," it is an excellent opportunity to meet and chat with some great knifemakers and lots of wonderful people. This was the 4th annual Gathering (from now on G4), was bigger and better than ever. We had a blast at the show, and I wanted to give you a look at some of the knifemakers tables, and some knives.
FYI: I am presenting these knifemakers in alphabetical order so you can find your favorite easily.
American Kami (DJ Urbanovsky)
DJ Urbanovsky has a mid-tech line called American Kami. There are several interesting things in this line. I am a big fan of the titanium apocalyspork. The spork is designed to have a longer handle so that it is easy to use with MREs and other tall dehydrated food bags. There is a built-in bottle opener/pot lid lifting hook, an oxygen bottle key, and an emergency hex driver. At G4, DJ debuted a new shorter version of his spork, and he also had some "chongs." A "chong" is a combination titanium chopstick and tong. There is also a fixed blade knife that is part of the American Kami line. It is called the Colubris and I really like the grind on the knife.
Bastinelli Creations
Bastinelli makes some very interesting friction lock folding knives. Since he is located in France, where knife laws are more restrictive, his knives are almost always legal to carry in most countries. The BB drago tacs that he had at his table were really neat. He also has new mid-tech fixed blades called the Raptor GT6, which are made by Lion Steel. I guess Lion Steel had some extra time on their production schedule. The knives will feature D2 steel blades that are PVD coated.


Benchmade
Picture from Benchmade's facebook page: here.
Benchmade surprised us with one of the coolest displays at the entire show. Instead of just bringing their production models, they also brought several Gold Class concept models. A lot of the stuff is not in production, and are ideas that Benchmade has been playing around with. Check out the butterfly knives in the picture above. The top (purple) one has a hollow ground recurve tanto blade with convex tip, Rob Thomas fireball Damascus blade, Timascus handles and a latch. The middle one is a latchless kriss bali with titanium handles and carbon fiber inlays. The bottom one has a hand-ground D2 bowie blade with a latchless 6Al-4V titanium handle. Beautiful, just beautiful. I for one, would be excited to see any of these balis go into production.
Boker

Boker has been doing some really cool collaborations with custom knifemakers lately. I have been really impressed with the stuff that Boker is turning out. They have worked with Jens Anso (Minos), Lucas Burnley (Kwaiken), David Curtiss (Nano), and several more. At their table I took another look at the Boker/Burnley Kwaiken. While at this show, I had the opportunity to look at an actual Burnley Kwaiken (see Lucas Burnley section below), and I think Boker has done a nice job making a production version of his knife. This knife is going to be a big hit and should be available really soon. I got to look at the new slipjoint version of the Boker Nano 42. I prefer the framelock version, but for those people who live in places where a framelock has questionable legality this will be a nice option. The knife looks identical since there is a faux framelock on the back side of the knife.
Brad Southard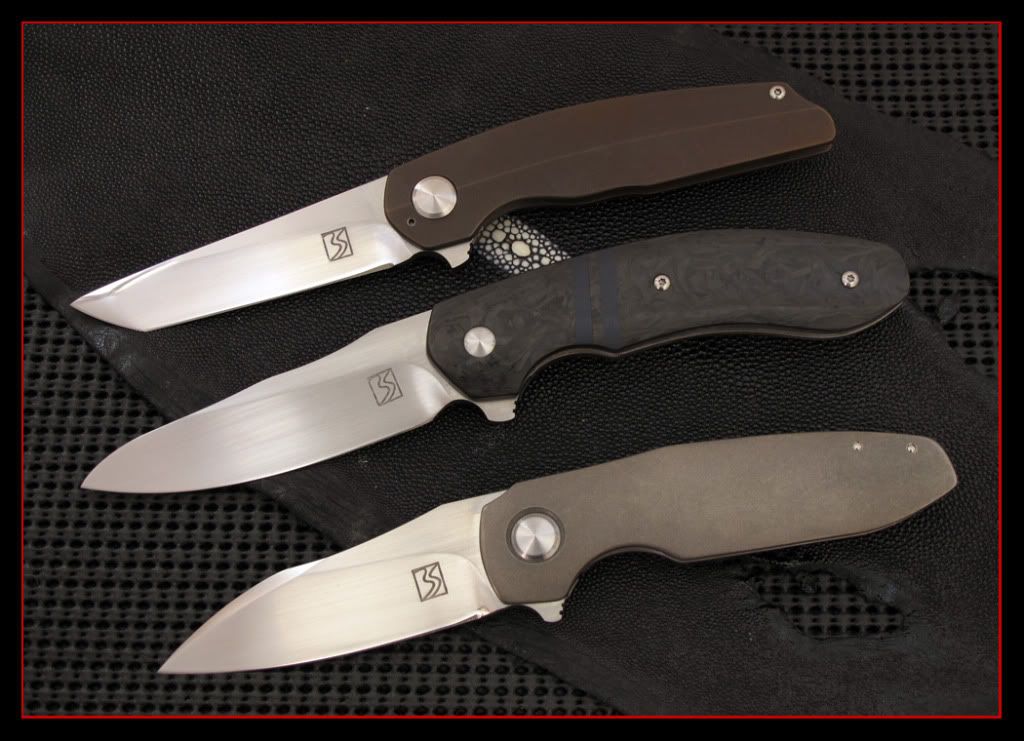 Picture from Brad's USN subforum: here (requires login).
Brad had a couple of knives for auction at the show this year. He didn't bring very many knives to the show this year, but they were nice looking pieces. I also got another chance to look at his version of the Spyderco folder that will be released soon. It will be Spyderco's first flipper, and it is going to be incredible.
Brad Zinker
Brad makes elegant knives. He had a version of his fruit knife featuring lightning strike carbon fiber and a flipper that I loved. I learned something about lightning strike carbon fiber from this show. Because the wires have to be threaded through the carbon fiber, each of those threads of copper create tiny little burrs that catch on your pocket, or your finger if they are not sanded down. On a knife, this can be particularly noticeable. When a custom knifemaker like Brad pays attention to this detail and sands down the burrs, the result is stunning. Lightning strike carbon fiber is difficult to get right, but when done well it is beautiful.
Brian Tighe

Brian Tighe has perfected the art of the CNC machine and he has perfected the art of damasteel. When the two combine in a Spicy Tighe perfection is obtained. I love the look that the CNC machine gives to Brian's blades. It adds a really cool look to an already very nice design. Brian Tighe also makes titanium belt buckles. I loved the look of this rib cage belt buckle.
Emerson Knives
Custom versions of Emerson knives are some of the most coveted knives at any of the shows I have been to. They often have lotteries for custom versions of their knives, and USN is no exception. The difference at USN is that the lottery is done in The Cove in the evening. It's a really great time with amazing people, and even though I didn't win any awesome knives, I still had a blast. For anyone who is wondering, Emerson brought just less than 50 knives to the show (I think the official count was something like 46.)
Grant and Gavin Hawk
We picked up a Beetle from Grant and Gavin Hawk. The Hawks come up with some of the most unique designs and locking mechanisms. The locking mechanism on the Beetle is no exception: it features an industrial strength rubber band that closes the knife, and the knife locks open using the force of your hand.
The Hawks also had several custom versions of their Cyclops neck knife on their table. Who knew that knife would be so customizable. Mantis knives has even done a production version of that knife.
Gray Precision
Gray Precision does a lot of knife "pimping." This year they had titanium beads, dog tags, and tools at their table. I especially loved the toxic green titanium beads. What could go better with your new toxic green custom knife?
Greg Lightfoot
Greg is one of the nicest people that you could ever meet at a knife show. In general, knifemakers are a pretty easy going bunch. (It's one of the perks of being a fan of knives). Greg always has nice knives on his table, and I particularly like his Bull Whip model (pictured left, this one with carbon fiber). He had several on his table, but when I checked back with him later, he had sold all of them.
Picture from Greg's website: here.
GTC

GTC stands for Gustavo T. Cecchini, a knifemaker from Brazil. He didn't have any knives left on his table when I got there, but he did have some pictures. His stuff looks really modern, and he uses interesting grinds on all of his knives.
Pictures from Gus' website: here.
Jesse Jarosz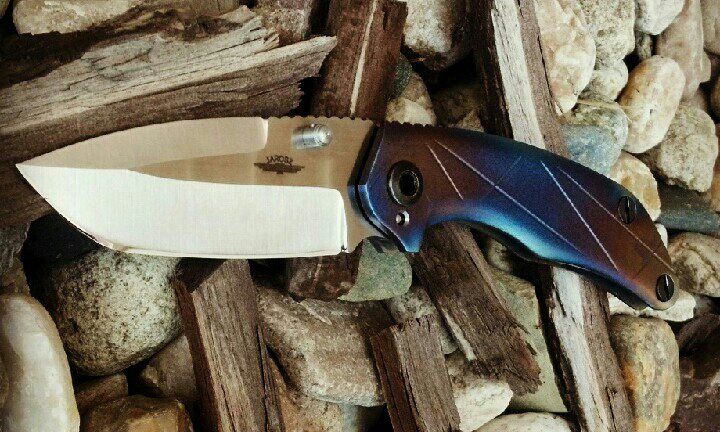 Pictures from Jesse's USN forum: here (requires login).
Jesse won best new knifemaker at the show. He only had a couple of knives on his table when I got over there, and they looked really nice. I am really interested to see where Jesse goes from here, he seems like a really promising new maker.
John Grimsmo
Picture from John's website: here.
John is a relatively new knifemaker on the scene. Some people may know him from his "knifemaking Tuesdays" that he hosts on his YouTube channel. John got his start making custom scales for production knives, and he has now debuted a new knife called "the Norseman." John's skills as a knifemaker have improved a ton at the last couple of shows, and I am really excited to see how far he goes.
Jon Graham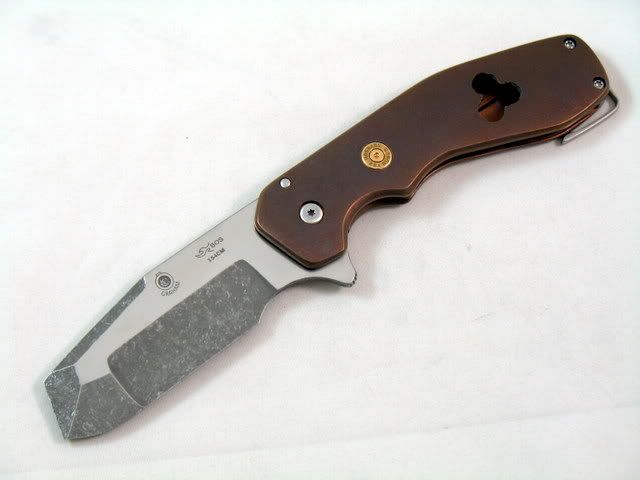 Picture from Graham Knives' USN forum: here (requires login).
Jon had an open bid on a knife with an awesome compound grind featuring a handle that someone shot at. The bullet holes in the frame were made with a .204 Ruger. The handle is made from titanium. Fully awesome.
Jonny Mac
Picture from JMK Knives' facebook page: here.
Jonny Mac had some really cool knives at this show. I was not familiar with Jonny Mac knives, before this show, but I love some of the scale materials that he is using on his handles.
KAI / Kershaw / ZT
I had to ask Jim McNair at the Kershaw / Zero Tolerance table about the ZT0777. I was just looking for an update, since I get asked about the status of that knife all of the time. Jim told me that they are working as hard as they can to get them done. (They haven't given up!) There will be some available, the only question will be how many. Unfortunately, I don't have an answer for that question yet. Jim also mentioned that right now we are waiting on pocket clips. That's all that is left between you and your very own 777.
Ken Onion
I think that Ken makes some of the most beautiful custom knives in the world. Ken had an auction, and I unfortunately didn't win anything, so I don't have anything to show off. Sorry.
Kirby Lambert
Picture from Kirby's website: here.
Everything that Kirby brought to the show disappeared from his table pretty quickly. Nothing of Kirby's lasts very long because everything that he makes is incredible. I love the drop point blade shape on Kirby's knives.
Les Voorhies
Picture from Les' website: here.
Les had a couple of Model 1's at the show. Really nice pieces. He didn't have any butterfly knives, which are my absolute favorite of his, but he said that he was going to be making more soon.
Luc Burnley
Luc had an auction for a few of his Kwaiken folders. We were lucky enough to win one of them. It was a titanium piece, with a wood grain pattern on the handle. Luc actually shaped the titanium into a wood grain pattern. I had never seen anything like that before, and it was incredible. The knife also features a moku-ti bolster, which might be the coolest material available to a knifemaker right now.
Microtech
Hank always has cool Microtech stuff at every show. We caught a first glimpse of the soon-to-be-released Microtech Zombie Ultratech. It's a cool knife and the paint job on the handle looks like an actual blood splatter. That knife will be very popular around Halloween.
I also got a chance to look at the new Marfione/Strider collaboration. There will be a D/A version as well as a manual flipper version of the knife. I am interested to see the production version of the knife. I think that it will do really well.
MV Knives
Michael Vagnino has created a new mid-tech line called MV2 Knives that is really promising. There are folding knives that feature Bohler K110 tool steel blades, flipper opening mechanisms, and carbon fiber handles.
There is also a fixed blade knife called the Nightwatch 5.0 that is a collaboration between Mike Vagnino and Ray Laconico.
Peter Rassenti
Picture from Peter's flickr photostream: here.
Peter sold all of his knives at G4 super quick, so fast that he told me he will have an auction slot next year for his knives. I really like Peter's work especially the knives with handles milled out of a single piece of titanium.
Phil Boguszewski
Bogi's knives are beautiful, and they all feature super smooth action. I wasn't lucky enough to win one in the auction unfortunately.
Protech
Dave always makes knives with USN toxic green accents, and this year was no exception. He brought a few custom versions of his TR-4 with toxic green buttons.
Rick Hinderer
I wasn't lucky enough to win any Hinderer's this year. I love the custom work that Rick does.
RJ Martin

Picture from RJ's website: here.
RJ had some custom versions of the Overkill, which Zero Tolerance is making as a production version (0600). RJ's son also made some beautiful carbon fiber pens that were on his table.
Rockstead
Picture from Rockstead's website: here.
This was the first year that I saw Rockstead's knife demonstration. He beats these knives up cutting through rope, stacks of paper, and even bamboo to show you just how sharp these knives really are. He uses ZDP-189 on his knives, and stingray inlays on the handles. The knives are cool, and they can sure cut well.
Sniper Bladeworks
I am a big fan of the Sniper Bladeworks Mini DH folder. I especially liked the radioactive version that they had on their table.
Spyderco
Spyderco had their usual table of prototypes and concept models. There are a couple of them that I am really excited about. I looked at the Brad Southard flipper, as I mentioned above. Liong Mah showed me one of his knives that Spyderco made a concept model of that I was also really impressed with. They showed off some versions of their Native models with acrylic scales just to show examples of what might be done.
Strider









We picked up a couple of Mick Strider custom knives. Mick does amazing work. Pictured is a custom SMF with an orange peel titanium handle. Dwayne Dwyer also had a PVD coated fixed blade knife with smooth carbon fiber scales.
Tango Foxtrot (Tom Ferry)
Tom Ferry has a new mid-tech line called Tango Foxtrot. Pictured is the new RAD 194 flipper. This folding knife has a great look. The blade is premium Elmax steel with a bead blast finish and it is built with a titanium liner lock frame and features carbon fiber scales and back spacer. This line is very exciting, since Tom does such great work.
Todd Begg
Todd Begg brought several of his Bodega flippers to the show this year, and I was lucky enough to win one. The knife features layered G10 inlays and a cracked ice finished back spacer, pocket clip and pivot cap. The Bodega has a replaceable lockbar with stop tab on the lock. Lots of things were thought out really well on this knife. The pocket clip features a ball bearing at the tip, a nice touch. The satin finished blade has a coated groove and the IKBS bearing system keeps the action on the knife smooth.
Tuff-Writer
 Tuff-Writer makes some very cool custom pens from stainless steel and titanium. This was the first year that I took a look at what they were offering, and I was impressed.
Picture from Tuff-Writer's website: here.