Few blades date back as far as the spear.  Found throughout history, in countless cultures, the spear has helped mankind survive by providing defense while also helping to hunt and forage for food.  It can be argued that the spear was one of the most important weapons to the development of the modern human race.  The oldest spears were found in Germany, where it is documented that wooden spears have been around for roughly 500,000 years.  Neanderthals constructed spears from sharpened rocks attached to sticks, or sometimes even using fire hardened points.  From there the spear was fine-tuned, and perfected throughout history, showing up in the hands ancient Greece and Rome soldiers,  used for hunting in the Zulu tribes of Africa,  used for defense and games in the dark ages,  weapons for warring states during the Qin era in ancient China, even used for fishing in several different Native America tribes.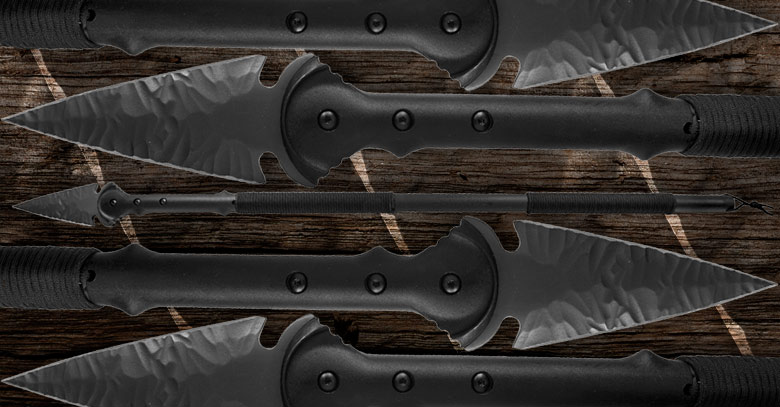 The list goes on and on, but it's safe to say that the spear has been around for a very long time.  So it's only natural that it is still prevalent today.   Nowadays they are used more for sport than for any other reason, a spear is just a fun item to have.
So why am I telling you all of this?  Well, I'm telling you so that you have a better understanding of why the Schrade Pantom is a must have for any blade fan, or outdoors sportsman.  This is an entertaining novelty item, great for safe, responsible, target practice.  The blade itself, measuring 7.625", is made from 3Cr13 steel, so it's perfectly for novelty use, and target practice in the back yard, while making sure it does not cost an arm and a leg.  The handle comes to a total length of 37.00", meaning the entire piece is roughly 44.50".
The Schrade Phantom non filled glass fiber handle also features a removable cap with a threaded ferro rod, and accessory tube for easy storage of the 2 needles, 2 fishing hooks, 2 split shots, and a fishing line, that all come included with the purchase of the spear!
This spear is an absolute must have for anyone going camping or hiking this summer.  With a multitude of additional uses, while saving on space, it's ideal.  There is a reason the spear has survived the test of time, get the Schrade phantom today and find out why.
What's your favorite use of the Schrade Phantom?  Is this awesome piece going to be included in your next camping trip?  We love to hear from you, so be sure to let us know.