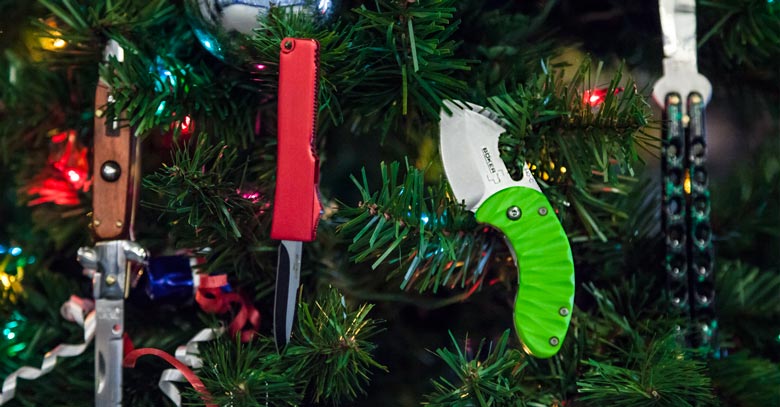 It's officially the holiday season! If you're like me, then this time of year is both amazing and stressful at the same time. It's amazing because there are lots of delicious treats, fun parties, and family traditions going on, but it can be stressful at times trying to find the perfect gifts for your friends and loved ones. If you have someone in your life who loves knives, you're in luck! Below are some great knife gift ideas that will help you get started with your holiday shopping.
 Knife Gift Ideas
OTFs make the best gifts for everyone, knife lover or not. The reason is that OTFs are fun. You definitely can use them for everyday carry, but the most common thing I hear people say about OTF knives is that they are fun to use. This is especially true with double action OTFs, like the Firecracker pictured above. The knife can be easily opened and closed with the thumb slide, and it's quite addicting. Keep in mind that this is a budget OTF. That means it is super affordable, but it may misfire occasionally if it's not lubricated well. If you're giving this as a gift, slip a tube of Tuf-Glide in with the OTF to help keep it lasting longer.
If you've got someone in your life who appreciates awesome things, get them these knife magnets. They are designed to look like they're sticking out of your fridge, filing cabinet, or wherever you've got them positioned. These magnets provide an original way to put notes on your fridge and a creative way to show off your interests to your friends.
The Boker Nano is a great gift option because it has good quality and it's a great size for everyday carry. It's hard to judge knife size from a picture, but this knife is just 4.75 inches long when open with a blade length of 1.875 inches and a weight of 2.90 ounces. When it's closed, it literally fits in the palm of your hand. This version of the knife has a frame lock, so it can tackle most day-to day tasks you will encounter despite its compact size.
Italian stilettos are a classy gift option for that special someone in your life. Like OTFs, Italian stilettos are a blast to use! They have automatic action that is triggered with the push of a button, making the knives virtually effortless to open. Italian stilettos can get kind of pricey, but the knife pictured is a very affordable Italian-style knife that costs less than $20. These stilettos are a great option if you've got a budget to stick to, but if you're wanting to get the nicest stilettos money can buy, head on over to Grindworx and check out the Frank Beltrame stilettos. They will blow your mind with their outstanding craftsmanship and beauty.
If you've got a balisong lover in your life, get this affordable butterfly for them. Because this model is inexpensive, it's a great option for beginners who are still learning what they do and don't like in a butterfly. Once they get their flipping skills perfected, then they can move on to more expensive butterfly knives that fit their preferences.
Bear OPS Bear-Song II Butterfly Knife
If you're looking for a gift for someone who has been flipping for a while and pretty much has the hang of things, you should take a look at Bear OPS knives. They have good quality, but they're not crazy expensive (though they're definitely not in the "budget" category). This line of butterfly knives from Bear Ops was actually designed by BladeRunnerS (BRS), who made the renowned Alpha Beast.
These are just a few knife gift ideas for you, but there are lots more options for you over at Grindworx. If nothing from this list is jumping out at you, head on over to Grindworx and browse around, because you're bound to find the perfect gift for that special someone over there.
Let us know if you have any questions or want further assistance with selecting a gift; we're happy to help!