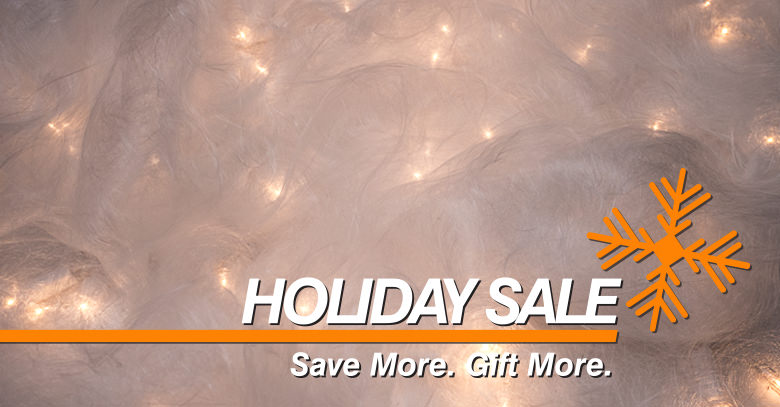 Well, both Black Friday and Cyber Monday have come and gone.  How did you do?  Did you get your hands on any of the fantastic free stuff we were offering?  If you didn't, don't be a Grinch just yet.
We want to be able to offer you savings all season long, so although Cyber Monday may be coming to a close, we are just kicking off all of our Holiday Sales!   On top of the already impressive savings, we will, yet again, be offering a free item once you have reached a certain price point.   Our Holiday sale kicks off tonight at 8pm MST, and runs all weekend until Sunday, December 6th.  It's only for a limited time, so be sure to log on and take advantage of these limited savings, since they won't last long.
Don't worry, I haven't forgotten about the free stuff.   Much like our previous sales, you will need to spend up to or more than $59, and you will unlock our exclusive Word Cloud Blade Shirt.  This kick ass shirt features a truly unique design, highlighting the most commonly used words in knife culture, all in the shape of a knife.  You can't find this shirt anywhere else!  And you can only get it free by shopping with us on Cyber Thursday.   These shirts make fantastic gifts for any of those hard to shop for knife fans in your life, or if you want to keep it for yourself that works too (don't worry, we won't tell anyone).  We have a limited number of shirts, so be sure to log on and save as soon as you can!  Don't forget, you need to put *t-shirt in the notes at check out to receive your free shirt.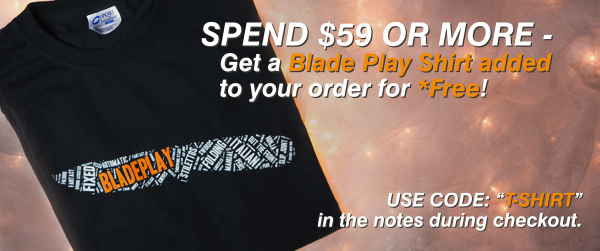 So there you have it!  Just because Cyber Monday is ending, doesn't mean the sales have to.  Take advantage of all the sales we will be offering this Holiday season.  We will be announcing more sales as the Holidays draw closer, so be sure to check back regularly for a chance to save on the stuff you want most!
Do you want to get your hands on a Word Cloud Shirt?  What are you asking for this Holiday?  Let us know in the comments below!