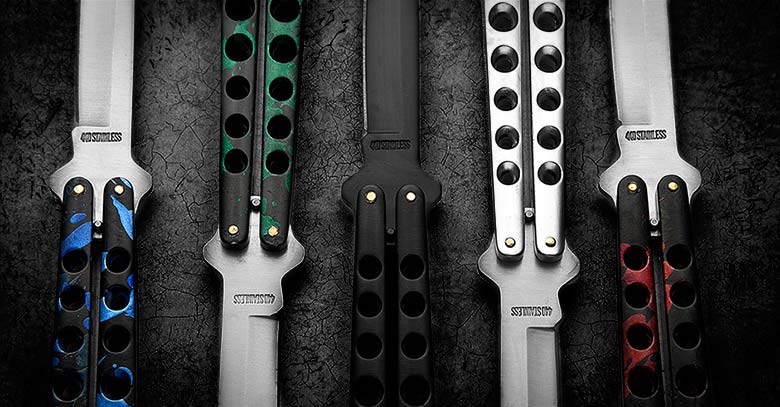 A lot of butterfly knives that you've come across in your day have probably been on the pricey side. I've got nothing against expensive butterfly knives—they usually have great flipping action and quality materials—but it's not every day that I have $100+ laying around to spend. Because we all have budgets to stick to, here are some excellent, inexpensive butterfly knives that you can find for $40 or less.
Key Chain Mini Butterfly Knife
This isn't your everyday full-sized butterfly knife—this little knife fits right on your keychain and comes to 3.5 inches long overall. It also closes, just like a normal-sized balisong, to help keep you from accidentally nicking your fingers.
Of all the full-sized butterfly knives in this post, these are some of the least expensive that you'll find! Right now these Scoundrel butterfly knives are selling for about $13, and they have skeletonized stainless steel handles.
I really like this butterfly knife because it has an interesting build, and I really like the screws. The bright splashes of color are "spectrum press-fitted screws." When you see the word "spectrum," it usually indicates a rainbow-like finish, and it is a beautiful thing.
This is another sub-20-dollar knife, and it has Micarta handles, which offer great gripping. It also features dual tang pins that provide tight lockup and decreased blade wear.
This is quite possibly my favorite butterfly out of this entire post. I really dig the camo pattern, and I love the fact that it's on the knife handles as well as the blade.
The name for this butterfly is actually quite appropriate; this is the longest knife overall in this post by about an inch. It totals 10 inches in length and weighs 5.88 ounces. If larger balis are your thing, this Large Elephant Balisong was made for you.
This butterfly knife has acrylic pearlex inlays that make the knife look classy. It also has dual tang pins and is made of stainless steel.
All of the knives up to this point have had sub-20-dollar price points, and this is the last butterfly in that category. It's pretty awesome that for less than $20, you can get a stainless steel knife that has rosewood inserts. I like the addition of the wood because it gives a warm feel to the knife.
Benchmark Small Balisong
This butterfly is slightly more costly (currently around $30), and it has some great flipping action. The overall length on this knife is 7.5 inches and the weight is 6 ounces, so this is a pretty heavy balisong. If you like a balisong with a little more weight behind it, be sure to check this one out. I've also heard from some people that they prefer heavier balisongs for beginners because they are harder to flip and a slow-moving bali will help you perfect your flipping skills more easily than a lightweight knife that flips at lightning speed.
Bear and Son Silver Speckle Balisong
Last but not least, you should highly consider getting a Bear and Son butterfly knife. Bear and Son makes butterfly knives that offer really good quality without costing an arm and a leg. This one costs around $35 currently, and it flips really smoothly and gives you good materials.
These butterflies would all make great choices. If you can't decide what butterfly to get, you could totally buy more than one because they're so affordable. Which of these inexpensive butterfly knives under $40 is your favorite?