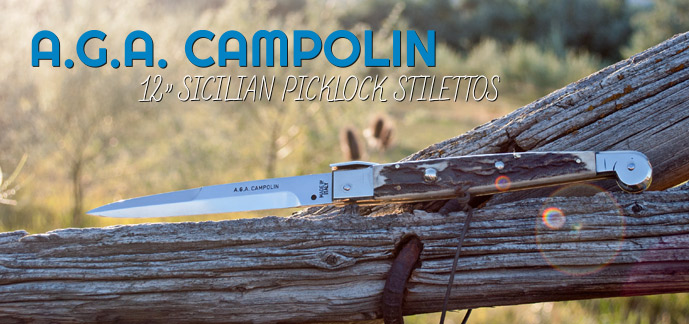 Showing up in films like "The French Connection" to "How the Grinch Stole Christmas.  From "The Goonies", to "Tomb Raider".  "The Man Who Knew Too Little", "Dude, Where's My Car", and "Red Dragon", the list goes on and on. The point I'm making is that Italian Stilettos always have been, and always will be impressive knives.  Any knife collector should have at least one bolstering the ranks of his or her collection.  For those of you looking to get your first, or just looking to add another quality stiletto to your ever expanding collection, make it a point to look at A.G.A Campolin.  They are making, genuine, beautiful, Italian knives.  The company itself is based in Maniago, Italy, so you can be sure you are getting something made from quality materials, with extra attention to detail.
A.G.A Campolin is offering an impressive array of different Italian Stilettos.  From the 9" Italian Stiletto Swinguard Stag Horn, with its genuine (you guessed it) stag horn handle, to the 12" Brazilian Horn Sicilian Picklock.  There are so many different options, it's almost guaranteed you will find the perfect addition to your collection, a knife you can be proud of.
Making knives for over 70 years, A.G.A Campolin was started before the 2nd World War.  Immediately after, the company was moved to Maniago, Italy where they have been perfecting the art ever since.  With a new design released as often as possible, A.G.A Campolin is re-defining the stiletto.  Each and every knife is hand-made, yes I said hand-made, by an experienced knife artisan, guaranteeing every knife they sell is unique, and of a very high quality.
When holding a knife hand crafted by A.G.A Campolin, you can both see and feel the rich history of these knives.  They are as much a part of the territory they come from as it is a part of them.  You know you are holding a stiletto with an abundant backstory.  Next time someone asks you what you are carrying, you can proudly say you are carrying a genuine, hand-crafted Italian Stiletto, direct from Italy.
Luckily for all of us, we just got a big shipment of these impressive knives.  But they are already going fast (people know quality when they see it).  Head over and get yours before they are gone.  Please keep in mind these knives are not legal everywhere, please check local laws before purchasing.  But, if you are one of the lucky ones who can own one of these amazing knives, we want to hear your story.  Let us know what you think in the comments below.